To live in the present is no easy task for anyone — we somehow seem to be living either in the past or the future. Celebrities, just like us, also enjoy spotting differences and similarities between "then and now" collages that throw us years or decades back in time. Looking at the past is an opportunity to see how far we've come, how much things have changed, and moreover, how much things have remained the same.
1. Sofia Vergara and Julie Bowen vs Sydney Sweeney and Maude Apatow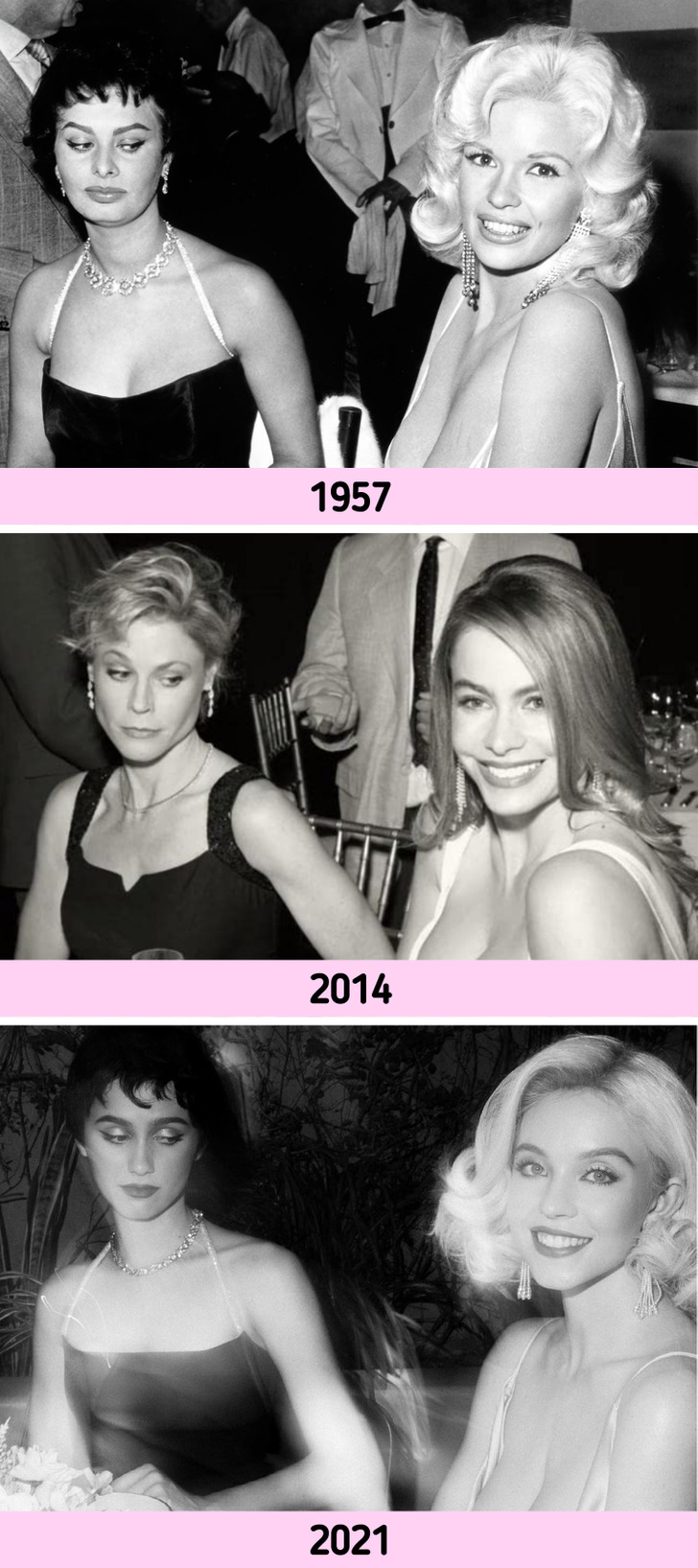 Album Exclusive/East News, © Modern Family /20th Century Fox Television and co-producers, © sydney_sweeney / Instagram
The "going-down-in-history for the best side-eye" award goes to Sophia Loren and Jayne Mansfield. In 1957, the actresses were both at the top of their careers. At an exclusive dinner event, Loren was afraid Mansfield's dress would show more than necessary, hence her side-eye.
Sofia Vergara and Julie Bowen recreated the scene in a 2014 episode of Modern Family. In 2021, Sydney Sweeney and Maude Apatow continued the tradition and put their own twist on the infamous photograph.
2. Scott Eastwood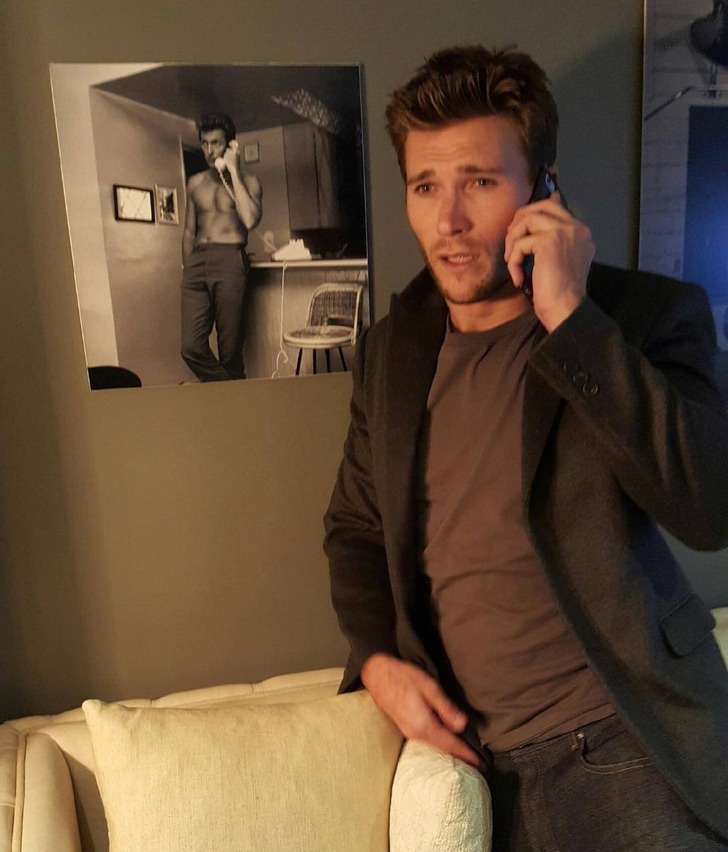 © scotteastwoodofficial / Facebook
The man in the picture on the wall is Clint Eastwood, and it was taken around 1961, shortly before Eastwood became a worldwide phenomenon. His son, Scott, who follows in his footsteps in acting, took us back in time. The only thing that seems to have changed is the fixed telephone turned smartphone, as the similarities between the father and son are striking.
3. Catherine Zeta-Jones with Michael Douglas & Co.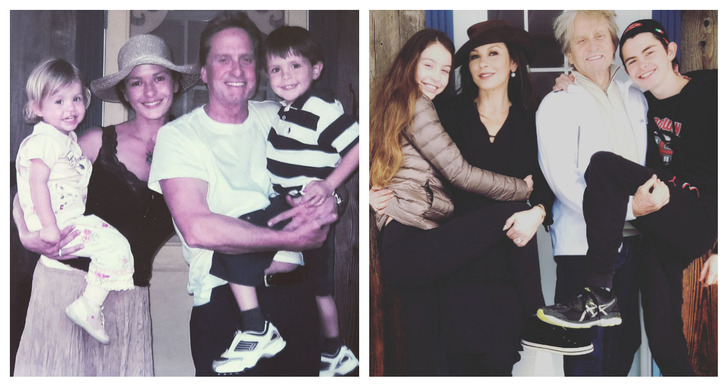 © catherinezetajones / Instagram
Catherine Zeta-Jones and Michael Douglas are a couple who, despite their 25-year age gap, show us that families that recreate pictures together, stay together.
4. The Avengers
Captain America, Thor, Iron Man, and Hulk — also known as Chris E., Chris H., Robert, and Mark, took the original picture in 2012 when The Avengers movie came out. 7 years later, the set of 4 superheroes reenacted the original picture in an attempt to promoteAvengers: Endgame.
5. Jennifer Aniston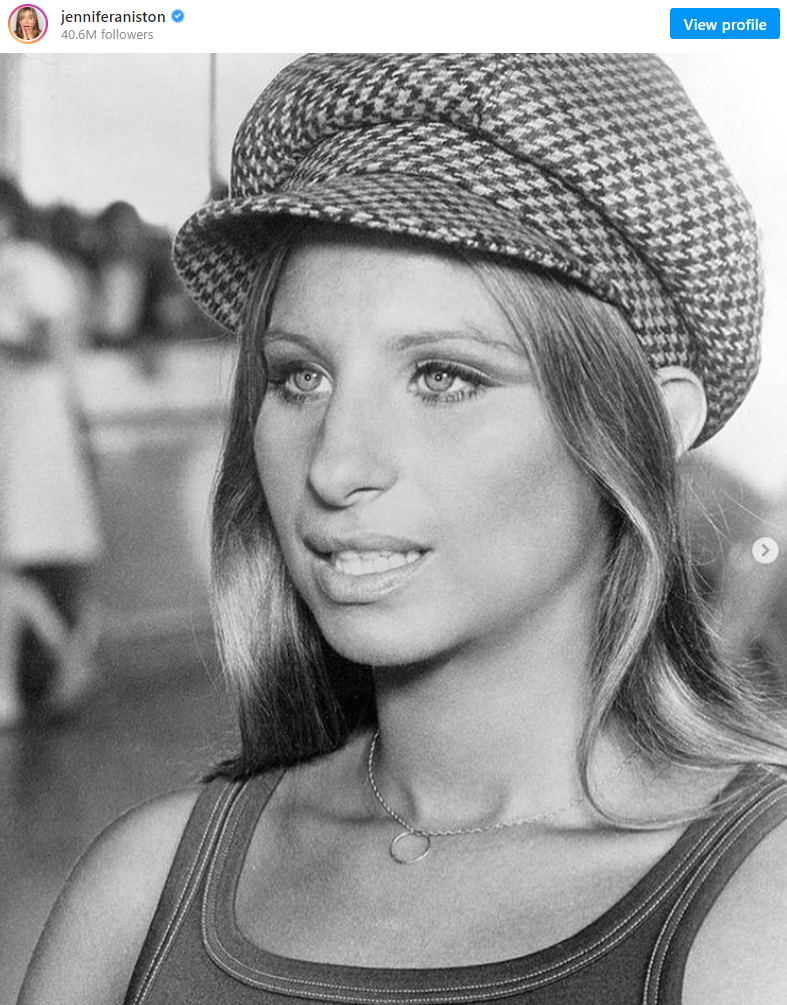 Jennifer Aniston is a devoted Barbra Streisand fan and doesn't miss any occasion to prove it. Back in 2010, the actress channeled her inner Streisand for a photo shoot, and in 2022, she posted the results as a tribute to Streisand's birthday, with a caption that read, "Muse, legend, always inspired by the one and only. Happy @barbrastreisand Day."
6. Tracee Ellis Ross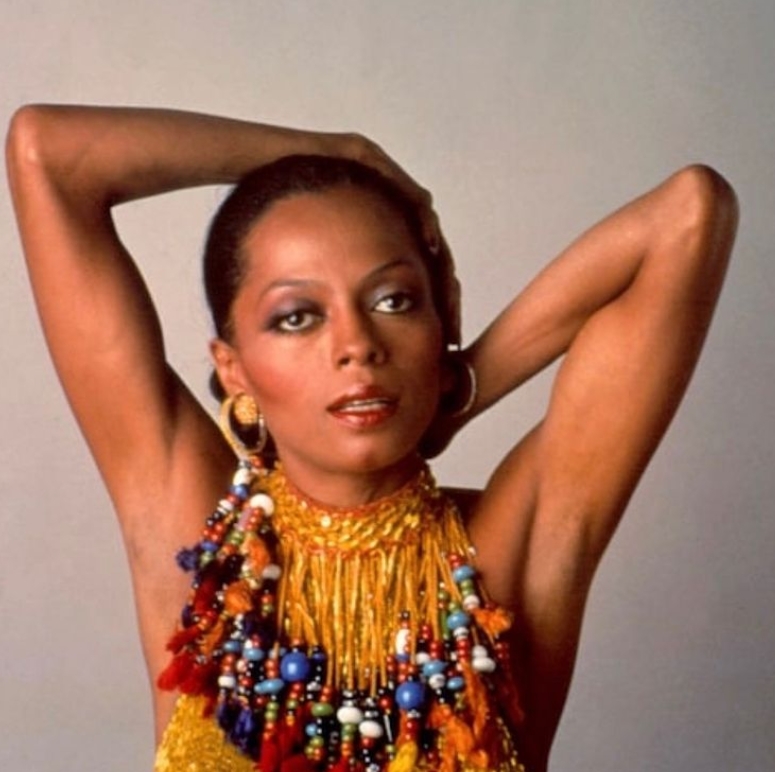 Diana Ross, the famous pop singer and actress, has 5 children, and Tracee Ellis Ross is her second eldest. Tracee found a picture of her mother wearing a statement necklace, and she realized she had the same exact one stashed in her closet. She dusted it off and flawlessly recreated the original picture of Diana that was taken in the '70s or '80s.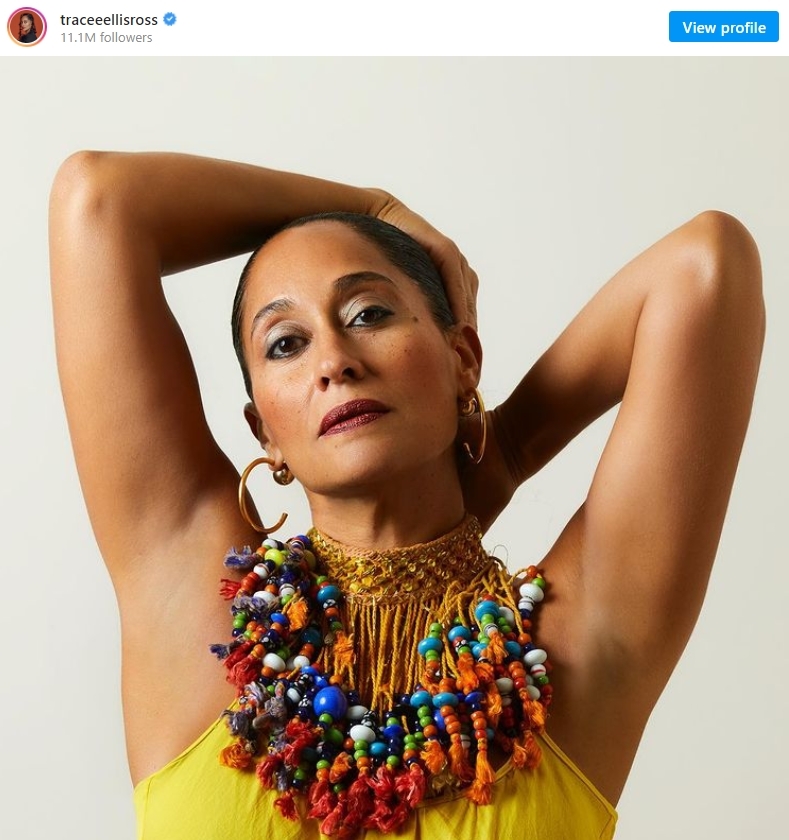 7. Matthew Hoffman and Olivia Munn
Mathew Hoffman and Olivia Munn put on their tourist hats when on a trip to London. Meghan Markle's famous photo (slide 3) in front of Buckingham palace was brought back to the present with the duo's witty recreation.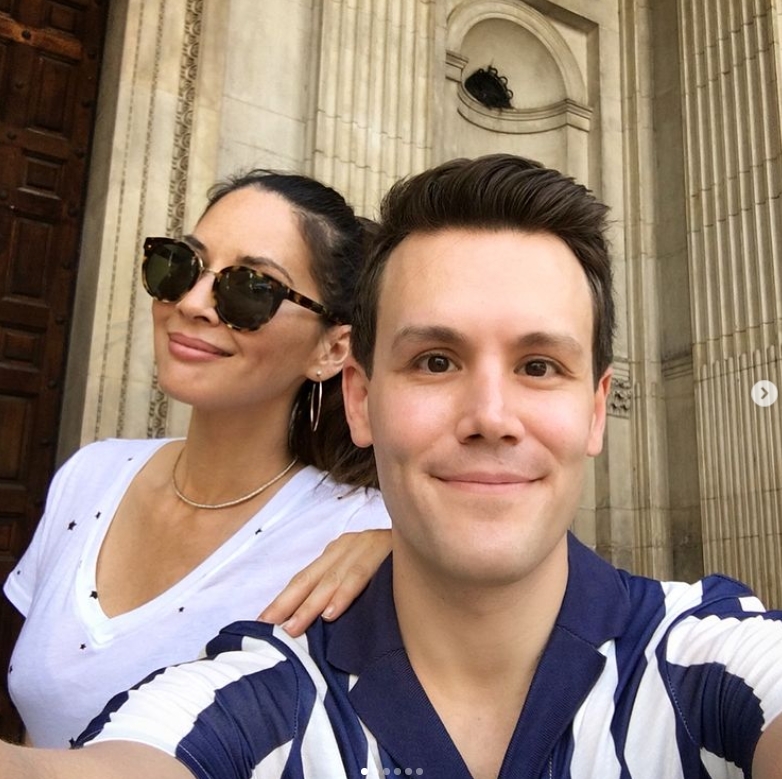 8. Jamie Lee Curtis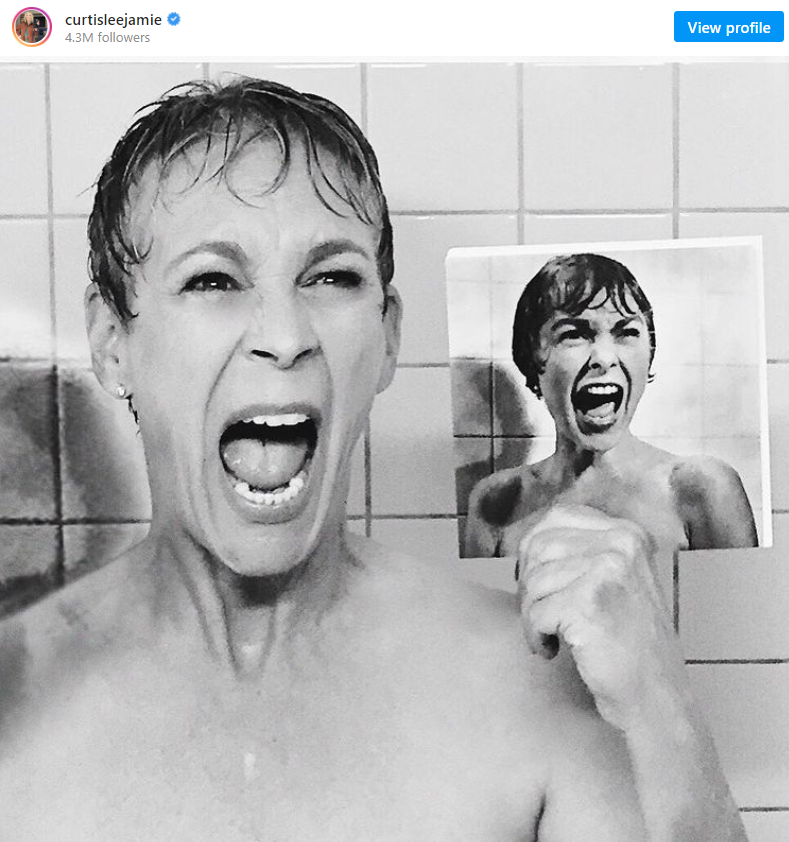 Jamie Lee Curtis recreated her mother Janet Leigh's famous shower scene from Albert Hitchcock's Psycho in order to promote the TV show, Scream Queens.
9. Kate Winslet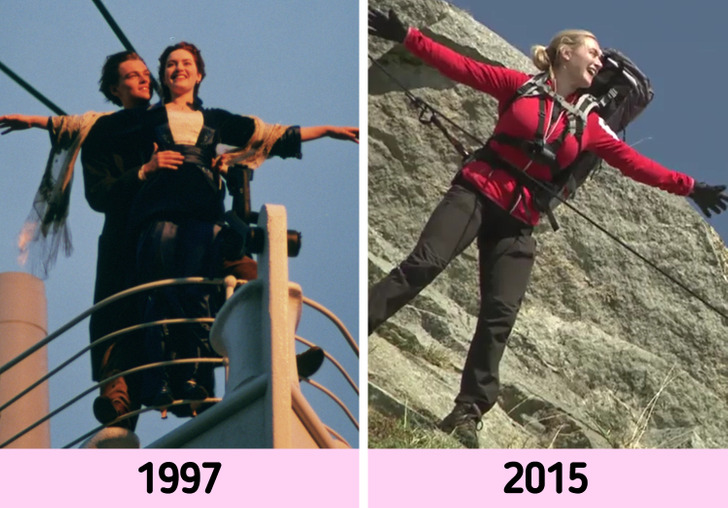 © Titanic / Paramount Pictures and co-producers, © Running Wild With Bear Grylls / Bear Grylls Ventures and co-producer
Almost 20 years after Titanic's premiere, Kate Winslet was a guest on Bear Grylls's survival show. While going down a rock under Grylls' guidance, the actress didn't waste a moment and recreated her and Leo's iconic "I feel like I'm flying" scene.
10. Avril Lavigne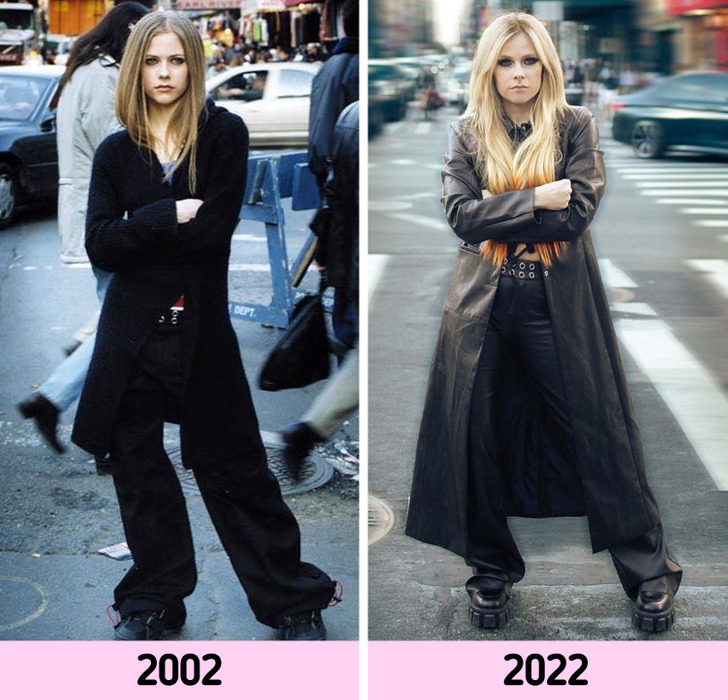 © avrillavigne / Instagram
Avril Lavigne released her debut album, Let Go,in 2002, and singles like"Sk8er Boy," "I'm With You," and "Complicated" seem to have stood the test of time — we're giving them another listen right now as we're writing this. 20 years later, the singer recreated her iconic album cover and managed to take us back to the 2000s.
Who do you think recreated Sophia Loren and Jayne Mansfield's iconic picture the best? If you could reenact any famous photograph, which one would you choose and why? Let us know in the comments.